---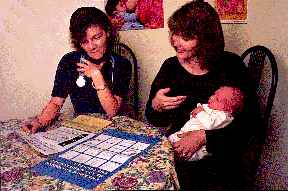 Family Planning
for the Breastfeeding Woman
Women who are breastfeeding have special needs when selecting a family planning method. Family planning counselors should be sure to inquire whether the client is breastfeeding and offer complete information about each method including any possible effects it may have on the quality and quantity of her breastmilk.
Methods can be classified into three categories based on their effect on breastfeeding.
1st Choice Methods
These methods do not interfere with breastfeeding and are safe to use any time after birth:
LAM (for up to six months)
Condoms (also the best protection against AIDS and sexually transmitted diseases)
Diaphragm
Spermicides
IUD (non-hormonal)
Natural Family Planning (breastfeeding disrupts the signs and symptoms of fertility, which may make charting difficult)
Vasectomy
Tubal Ligation
2nd Choice Methods
Methods under this category contain the hormone progestin. In most cases, these methods do not affect a woman's milk supply. However, to avoid any risk, it is recommended to wait six weeks after delivery before using a progestin-only method, which include the following:
Mini-pill
Injectables (such as Depo-Provera®)
Implants (such as Norplant®)
3rd Choice Methods
These methods contain the hormone estrogen which can reduce a woman's milk supply. Women should be informed of this risk and advised to delay the use of such methods until at least six months postpartum. However, if the breastfeeding woman chooses this method, she can continue breastfeeding and should be encouraged to do so for its numerous health benefits.
Combined oral contraceptives
Combined injectables
The client should be fully informed about all available methods and supported in her decision, regardless of which method she chooses.
Breastfeeding Habits that Improve LAM
Frequently Asked Questions (FAQs) about LAM
This page was adapted from the original web site of the Institute for Reproductive Health, a project funded by the United States Agency for International Development (USAID) under the terms of Cooperative Agreement DPE-3061-A-00-1029-00. Information (photos excluded) and publications may be reproduced, adapted, and disseminated without permission, provided the Institute for Reproductive Health is acknowledged and the material is distributed free of charge, or not for profit.
The LAM section was originally developed by Shirley Coly
Photograph on this page by Noureddine El-Warari.
---