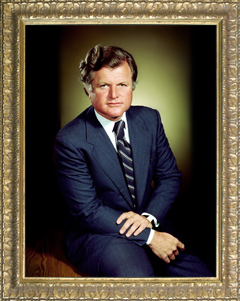 Edward Moore "Ted" Kennedy
(February 22, 1932 – August 25, 2009)
Edward Moore "Ted" Kennedy (February 22, 1932 – August 25, 2009)[1][2] was a United States Senator from Massachusetts and a member of the Democratic Party. In office from November 1962 until his death, Kennedy served nine terms in the Senate. At the time of his death, he was the second most senior member of the Senate, and the third-longest-serving senator in U.S. history. He was best known as one of the most outspoken and effective Senate proponents of liberal causes and bills. For many years the most prominent living member of the Kennedy family, he was the son of Joseph P. Kennedy, Sr., the youngest brother of President John F. Kennedy and Senator Robert F. Kennedy, both victims of assassinations, and the father of Congressman Patrick J. Kennedy.

(source : wikipedia)

Senator Edward Kennedy played really important role for the breastfeeding movement. I was the second person to testify on the first day of his Senate committee hearings following the Reagan administration's negative vote on the Code in Geneva. He skillfully got this issue to the senate floor where a large majority including many Republicans vote a sense of the Senate to deplore the US vote in Geneva. He had genuine concern, and really cared. I also served on a mission to Africa for his Senate Health Committee to make recommendations following the Sahel famine. Again at the Hearings in Washington Kennedy illustrated his compassion, and was always so unassuming, and easy to talk to.
We need to honor his memory.

in sadness at his passing,
Michael Latham
Co-Chair, WABA International Advisory Council.