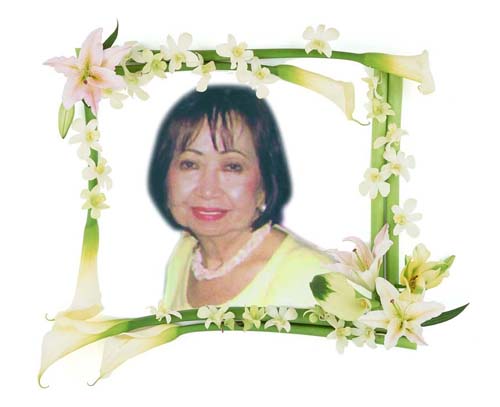 A special tribute to Dr. Natividad Relucio- Clavano

Kindly contributed by Innes Fernandez, on behalf of Save the Babies Coalition
Dr. Nativid Relucio- Clavano passed away October 04 at the Makati Medical Center in metro Manila. We will miss our breastfeeding doctor-warrior who bravely testified against milk companies insidious marketing that caused bottlefeeding menace. She talked openly about how Nestle in a meeting in Geneva tried to bribe her in exchange for dropping her remarkable study. She conducted an intensive research studies on breastfeeding and how it save thousands of babies' lives. It also exposed the consequences of bottlefeeding and diarrhea in the 70's and 80's. It was a global reference. She continued to pursue another thorough study on complementary feeding. She was one of the few brave woman- doctor who despite her lingering illness gave breastfeeding trainings anywhere and anytime especially last year. On media interviews, she dared to tell the public about milk companies advertising lies, she is one of few doctors unafraid of the multinational giants.

She awaited for the Philippine Supreme Court long standing (2 years) final verdict on the revised Implementing Rules and Regulation of our Milk Code law. The multinational milk-pharmaceutical companies composed of Mead Johnson, Wyeth, Abbott-Ross, Glaxo-Smithkline, Novartis etc. formed an NGO called PHAP-Pharmaceutical Healthcare Association of the Philippines who sued the Department of Health officials for passing a strong rules covering a ban on advertisement on babyfood for babies below 2 years old etc.

Dr. Naty R. Clavano could no longer wait for it. She bid the world goodbye. She is an inspiration for us, a moving spirit behind our babyfood issue struggles.
Tributes from around the world.....
If you would like to pay tribute or share any interesting pictures of Dr. Clavano that we could post on our website, please click here
Dr.Natividad Clavano,this tiny woman moved mountains.

To those who said it could not be done i can hear her saying " get out of the way of those of us who are already doing it!"

At the Baguio Hospital in the Phillipines,she gave us a shining model that inspired two generations of activists and health professional. Her competence and her courage was legendary. And just last year she called me to say she wants to do more and to call her
if we needed her for anything. She spawned energy and confidence and was there for us ,always.

How would Dr Clavano, a dear friend for over 30 years, be like to be remembered? I thought she would have liked to share this poem by Margaret Powers:
"Do not stand at my grave and weep.

I am not there.I do not sleep.
I am a thousand winds that blow.
I an the diamond glint on snow.
I am the sunlight on ripened grain.
I am the gentle autumn rain.

When you awaken in the morning's hush,
I am the swift uplifting rush
of quiet birds in circled flight.
I am the soft star that shines at night.

Do not stand at my grave and cry:
I am not there. I did not die."

We are glad that through her great work she will
always be with us. That how she you would want it to
be and thats how it will be.

Salams ,sister clavono and thank you...

Anwar Fazal, Malaysia
The U.S. Congress launched its own investigation and Senator Edward Kennedy, chairman of the Subcommittee on Health and Scientific Research, held a hearing in 1978 on the promotion and use of infant formula in developing countries. The most dramatic testimony of the day was that of Dr. Natividad Clavano, Chief of Pediatrics at Baguio General Hospital in the Philippines, who described how the hospital had successfully addressed the infant formula problem by refusing to allow the milk nurses access to new mothers, removing formula promotion posters, ending the distribution of formula samples, instituting immediate breastfeeding after birth, and twenty-four-hour-a-day rooming in. In just over four years, in a population of 10,000 infants, the breastfeeding rate jumped from 26% to 87%. Furthermore, Dr. Clavano stated, "we are able to reduce infant deaths by over 47% and diseases by 58%. Diarrhea was reduced by 79%." In the place of formula company posters, they hung up reproductions of the cover of The Baby Killer.

Excerpt from Milk, Money and Madness - The Culture and Politics of Breastfeeding by Naomi Baumslag, M.D., M.P.H., and Dia L. Michels
Sorry to hear about the sad demise of a crusader for breastfeeding, Dr.
Natividad Clavanao. Convey our condolence and deep respect to her family,
who ever meet her and known her will remember her for a long time.

Best wishes,
Zafrullah, Bangladesh
Dear Dr. Clavano,

You have lived a great life, an inspiration for us whom you left behind to continue the struggle for the rights of mothers and babies for the protection of breastfeeding.

Most admirable was your being a doctor- warrior who spoke strongly against the abuses of the multinational milk companies in either media interviews or in any arena of learning. You have reached 2 Senates to testify on the unethical milk marketing correlating your intensive research studies that bespeaks of bottlefeeding menace that wreak thousands of lives. The first one was at the USA Senate Inquiry under Senator Ted Kennedy 3 decades ago and lately at the Philippine Senate on the Milk Code Inquiry.

I can never forget how you bravely told the story on how Nestle officials tried to bribe you in Geneva meeting in exchange for stopping your breastfeeding research study that became a global reference. And how you rejected them in disgrace.

Also, how you kept saying that the enormous work you have done was first recognized by the international community and only after that the local recognition came later.

God is the witness to your valuable work.

I am blessed to have worked with you at the last trainings you gave for the UNICEF initiated testing of the breastfeeding manual in Tagaytay and Davao 2 years ago. I vividly remembered your advise with regards to poster making addressed to me and Jing in your house in Baguio: "Mapaiba naman" (make it different). You showed an article from the Inquirer about ads impact. Then you got some banner photos of breastfeeding mothers and remarked that " sawa na ang public seeing the same photos" and you brought out the slide where yellowish milk colostrum drips and you said," tingnan mo this has an impact, people will pay attention to this precious life saving mother's milk" . I told myself that if I got the chance with funds, indeed I will make use of this colostrum poster and create one for the public.

And how you pointed to me while I was giving lecture on breastfeeding and working women management, you corrected me that there is no need to sterilize the cup in keeping the preserved breastmilk. The cup just needs to be washed with soap and water and kept clean. You emphasized to the participants that it is the artificial rubber teat that is the culprit of contamination.

In Davao, I could sense the frailness of your health but you persevered and continue to 2 do things simultaneously hopping from one training to the other as resource person for the breastfeeding seminar and the nutrition event. You are a character that no one can match. Full of life despite vulnerabilities. Unafraid of giants.

As you jokingly said, " I am small but like big, look at my husband, and I like big study to undertake thousands of respondents". Dato Anwar Fazal pioneering founder of WABA and IBFAN described you as " a tiny woman but moved mountains".

In sadness and in sympathy, we pray for your peaceful journey in heaven. Knowing fully well that you will be our guardian angel and guide the Supreme Court Justices to see the pot of gold in breastfeeding not the green bucks of the milk companies and prod them to sign the passage of the final verdict on the revised IRR of the Milk Code( en toto) as Christmas gift. Sorry Dra. Clavano even if you are already in heaven you still have favors to bring for us.

Innes, on behalf of the Filipino mothers and babies and the world's activists for food- health security and sovereignty.
WOW! The passing of a legend. The passing of a heroine whose actions have saved more human lives than she ever knew in her lifetime. May her spirit and determination shine on. May we renew our determination to carry on as she taught us, as we celebrate a life that touched infants, women, professionals in more ways that I can name. I truly loved Dr. Clavano. I will gather a few people and we watch one of the movies in which she featured, in remembrance of her.

Margaret Kyenkya, Uganda
Thanks for the notice about Dr. Clavano. I passed it along to Lactnet, the US Bf Committee, and my local bf networks. We'll miss her, but we will remember her example.

Chris Mulford, USA
This is a very sad loss. I send my condolences to all in the Philippines who worked with Dr Clavano in her campaigns to support the health of mothers and babies and defeat the attacks of breastfeeding. I hope her example will inspire others to take up the work.

Sincerely,
Virginia Thorley, Australia
We were all do much "richer" for having known Natividad Clavano and been inspired by her person and her work. Wellstart had the pleasure of a visit from her to our headquarters in San Diego. in addition, she was able to atttend a follow-up meeting of our Asian Wellstart Associates in the early 90's. As everyone has noted, while she was small in stature, she was enormous in both spirit and committment. She was a realy trailblazer and will be missed. It is important for the rest of us to keep moving along that trail for the benefit of the world's families.

Audrey Naylor, USA
Dr Natividad Clavano has passed away - let us remember her.

In 1975, Natividad Clavano started experimenting with what became "rooming -in". She convinced her nursing staff to break with the past, to have a complete change in routine and a total absence of feeding bottles and formula at the Baguio General Hospital in the Philippines. It was not easy, as there had been a cosy relationship with the babyfood companies (as exists in so many hospitals still now). The first step is always the hardest, Dr Clavano told us: "How to break the stranglehold that we had allowed milk companies to have on our hospital? I closed the door of the nursery to the milk companies. We stopped giving our babies the starter dose of infant formula. Down came the colorful posters and calendars... Everything that was conducive to bottle feeding was removed not only from the nursery, but from everywhere else in the hospital. I myself rejected samples and donations from the milk companies. How else could we be credible?"

Her strategy worked. In only two years, breastfeeding increased by 135%. Infant mortality decreased by 94%. Overall, clinical infections decreased by 89%. This was the study that Nestle tried to dissuade her from publishing. No wonder ! The results were damning.

Clavano not only lived on a mountain, she has moved mountains. Only a little over 5 feet tall, and ever so gentle by nature, she was tenacious in promoting breastfeeding; she showed that entrusting the baby to the mother saves lives, she showed the world that hospital routines can be changed, dramatically and relatively suddenly. Her story is in our Healthworker's Guide to the Code , in all ten editions and in all 17 languages. She is there also in a cartoon, as the angry doctor ripping company posters off the wall.

Her success became an example and an inspiration to breastfeeding promoters around the globe. On IBFAN's 10th anniversary, ten awards were given to individuals who had made outstanding contributions to the work of IBFAN and the protection of breastfeeding: Dr Clavano was one of the ten. That was in October 1989. Dr Clavano did not stop; she carried on with her mission in life well into retirement. We will miss her.
May she remain in our memory as a fighting example for all of us.

Annelies Allain, Malaysia
It is with anguish and a deep sense of loss that I received the news about the passing away of our dear friend and colleague, Dr. Clavano. My wife Ana Mabel and I composed the following personal tribute for her:

Today 3 years since we got to know you we realize once and for all that the time has really come for us to release you into the bosom of the Lord Almighty and we do so in humility and in thanksgiving for your wonderful and enchanted life. In your passing, we remember you for your beauty, your warm friendship, your deep intelligence and above all how full you have been of life, passion and ideas, and how in life you have always put the Rights and welfare of others above your own comfort. You had that simple way of giving yourself completely for the happiness of others. And in your search for justice for infants and young children, you gained international recognition and worldwide praise for your breastfeeding promotion work.

Once, every so often in our lives, we meet rare and extraordinary people who leave indelible marks in our memory and few who actually touch the core of our humanity with their own human spirit. We are very happy to say that you have been one such friend and colleague for us and for many others with whom you worked for children here and all over the world. It has been a delight knowing you and a real priviledge sharing the same podium with you sometimes. We are happy that already in life while you were still here with us, we have had the priviledge of letting you know just how high our regard and admiration has been for you and for all your achievements. Together, we have enjoyed warm light moments as well as the passion and intense advocacy and practical work for children's Rights. You have been a worldwide icon for breastfeeding and a tireless defender of the Right to food security for infants and young children. You have not lived long enough to witness in this life the verdict of the Supreme Court in the ultimate challenge in the defence of the Right to breastfeed for young Filipino children but your work continues to inspire and motivate us all. We have learned so much from you and hope that in some small way we too in our interactions with you have managed to impart some joy and happiness to you.

Thank you for your love. Thank you for your friendship. We will miss you very much. But your work lives on. Ate Sempre! A Luta Continua! Dr. Clavano descanse em paz eterna!

Dr. Nicholas Alipui, Country Representative, UNICEF Philippines
I met Dr. Natividad Clavano in 1993 when my family moved to Baguio City. Back then, I was deeply involved in human rights and peasant issues but having read about her crusade, I tried to volunteer to help her prepare slides for an international conference. When I submitted my work, she said she cannot use it and showed me her other slides much more beautiful than my work. I was just starting to learn how to use the computer then and my output paled in comparison to her presentations. I just knew that she is a woman who is very dedicated to her work, a woman who is ahead of her time.
Fast forward to 2004, Dr. Elvira Henares-Esguerra and I passed the IBCLC exam and committed to use our accreditation to boost our advocacy. We went to a Senator and showed her the economic consequences of the loss of the breastfeeding culture and she was convinced that its gross effects on the economy requires for a Senate investigation. As a preparation for the Senate hearing, I travelled to Baguio City and requested Dr. Clavano to attend the Senate hearing and present her study. She proudly shared to me that she continued her advocacy despite her retirement.

When she agreed to appear at the Senate hearing, she gave me her statement and asked me to help her prepare a PowerPoint presentation. I reminded her the first time we met which she said she did not remember at all and we had a good laugh. I was so happy and honored to be able to finally help in her presentation.

In May 2005, during the Senate hearing, she shared that it was her third time to appear before a Senate: the first was in May 1978 at the US Senate before the Sub-committee on Health and Scientific Research of the US Committee on Human Resources and the second was in 1989 at the Philippine Senate hearing that was a prelude to the enactment of The Rooming-in and Breastfeeding Act Republic Act 7600.

The first hearing focused on the marketing and promotion of formula milk in the developing nations when she gave a testimony of how breastfeeding can reduce child mortality backed up by her 10,000 baby study. Sadly, a group of Filipino doctors tried to discredit her study by issuing statements debunking her scientific claims. Dr. Clavano mentioned that the WHO and the UNICEF organized an international meeting on Infant and Young Child Feeding the following year after the US Senate Hearing, and two years later the International Code was approved by 118 countries including the Philippines.

She strongly recommended the following during the third Senate hearing: provide mothers with longer paid maternity leave; establish crèches at workplaces; revive the national movement to promote breastfeeding with budget appropriations, conduct trainings of health workers to be able to support mothers to breastfeed beyond two years, implement strictly the national code, support researches on breastfeeding; and establish a child-to-child program to educate them at a young age on the advantages of breastfeeding. Dr. Clavano also stressed that the success of her program is because she closed all the doors to all formula milk companies.

The Senate hearing that Dr. Elvira and I initiated caught the attention of our president who is an economist so much so that she ordered a further investigation and a presentation of the issue of infant and young child feeding at the presidential cabinet meeting. Although Dr. Clavano was not able to join us during those hearings, she constantly called and talked to us giving us pointers and nuggets of wisdom.

Soon after, in a dinner with the President, Elvira's family invited the Health Secretary and the head of the UNICEF and we were able to convince her to declare a presidential proclamation to celebrate World Breastfeeding Week. We excitedly planned the event during that dinner and invited Dr. Clavano to join us in the launching. Dr. Clavano travelled from Baguio and joined the celebration and we presented her to the guests during the program. Against the usual protocol, the president recognized her efforts by going to her seat, hugged and congratulated her.

In August 2006, when we organized the second official celebration of the World Breastfeeding Week, we recommended to the President to give Dr. Clavano the Order of the Golden Heart, the highest award ever given by the Philippine President to individuals who have rendered distinguished services. The citation, written by Elvira's father praised Dr. Clavano for her pioneering work in the field of pediatrics with her work "Under-Five Clinic National Program," and in infant feeding with her Baby Friendly Hospital Initiative.


After the celebration, it was our turn to accept her invitation to be speakers in a conference she organized in her mountain city. She billeted us in the best hotel and even specified to the reception that we should be given a room with a nice view of the pine trees and the hills. She showed us all the rooms in her house, asked her husband and her son to fetch us for lunch with her family and bring us to the bus station.

I will always remember her not only as a feisty and gutsy doctor who conquered tremendous obstacles to be able pursue her passion and uphold international standards of ethics but also as a gracious host to the mountain city of Baguio where she chose to be buried.

Nona D. Andaya-Castillo, Philippines
Revolution in Perinatal care - tiny woman who moved mountains :
"We allowed the companies to touch the lives of our babies, not because we did not care, but because we did not realise the consequences of granting such a privilege. How to change all that? How to break the 'friendly' stranglehold that we had allowed the milk companies to have on our hospital?"

Health campaigners around the globe are marking the death on October 4 th of Dr. Natividad Relucio Clavano, Chief of Paediatrics, Baguio General Hospital, the Philippines who provided one of the important pillars of research which demonstrated the damaging impact that western medical practices can have on breastfeeding and child survival. Her work gave foundation to a global movement which continues to save millions of lives across the globe.
Natividad, the daughter of a wealthy businessman, was born in Manila on 1 st October 1932. She was educated at the Holy Spirit school in Manila and graduated in medicine in 1957 from the University of Santo Tomas in Manila. Seventeen years later her life took a dramatic turn when she came to London to take Post-Graduate Studies in Pediatrics at the Institute of Child Health, London University. Initially keen to learn about asthma, she studied under Prof David Morley who opened her eyes to the far more urgent problems facing the underprivileged in her country - problems that were totally preventable. At that time the western medical model had become standard in the Philippines and throughout much of the developing world - babies were routinely removed from their mothers at birth, placed in a nursery and formula fed - with supplies happily provided by the milk companies. But by the time she arrived in London the consumer protests about the practices causing this particular ' commerciogenic malnutrition' had started. Morley and Ralph Hendrickse had given an interview in the New Internationalist , the War on Want report, The Baby Killer had been translated into German as Nestle Kills Babies and this had prompted Nestle to sue for libel in Switzerland.
Natividad returned home armed with practical information about how to change hospital practices and prejudices. In a UNICEF Assignment Children report in 1981 she explained how she "closed the door of the nursery to the milk companies. We stopped giving our babies the starter dose of infant formula. Down came the colourful posters and calendars; in their place we hung the "baby killer' posters which show an emaciated baby inside a dirty feeding bottle."
When I met her in 1989, she stressed the need to retrain medical and nursing staff - many had not seen fully breastfed babies and mistook normal breastfed stools for diarrheoa. Most importantly she also documented the results of her actions. Her 10,000 baby study of the babies born in Baguio General Hospital between 1973 and 1977 (which Nestlé tried to suppress) showed that r ooming in (keeping mothers and babies together) and demand breastfeeding (rather than feeding to a rigid timetable) increased breastfeeding rates from 40% to 87% and reduced the rates of diarrhoea by 94% and death by 95%.

Natividad, described by Anwar Fazal (human rights leader and founder of networks such as International Baby Food Action Action (IBFAN), Pesticides Action Network and Heath Action International) as 'a tiny woman who moved mountains' continued to campaign against the formula giants and to help with training programmes. She spoke in Washington at the US Senate Inquiry in 1978 under Senator Ted Kennedy, who publicly demanded that the World Health Organization (WHO) do something about the aggressive marketing. In 1981, three years later, the World Health Assembly adopted the landmark in consumer protection, the International Code on the Marketing of Breast-milk Substitutes and the began its work helping governments implement it. In 1986 President Corazon Aquino signed into law the Philippine National Milk Code - at the time one of the toughest laws in Asia and in 1992 this was followed with The Rooming-In and Breast-Feeding Act requiring the state to "create an environment where the basic physical, emotional, and psychological needs of mothers and infants are fulfilled through the practice of rooming-in and breastfeeding."
In June this year George Monbiot wrote in the Guardian of the ongoing struggle to close the loopholes in this law - loopholes which the companies use to continue their aggressive marketing and undermine breastfeeding. Natividad spoke in defence of the new rules at the Philippine Senate on the Milk Code Inquiry in 2005. A decision by the Supreme Court was announced on 9 th October and many, but not all of the controls on marketing that Clavano fought for were approved. [http://www.guardian.co.uk/Columnists/Column/0,,2095675,00.html)
Natividad's work also came to the attention of UNICEF's Executive Director Jim Grant, and contributed to the formation UNICEF's Baby Friendly Hospital Initiative, and its Ten Steps to Successful Breastfeeding , which has become an initiative that is transforming hospital practices in 192 countries. In 2006 she received the Order of the Golden Heart with rank of Commander from P resident Gloria Macapagal-Arroyo for her pioneering work in the field of pediatrics and infant feeding and for her Under-Five Clinic National Program.
In both the UK and the Philippines the level of commercial promotion of bottle feeding is high and if we are to turn things around and put infant health before the needs of industry we will need more health workers with the honesty and courage that Natividad showed. Natividad died of a pulmonary illness, and is survived by her husband Dodong, three sons, Greg, Guido and Graf and two grandchildren.
Natividad Relucio-Clavano, doctor, born October 1 1932; died October 4 2007
Patti Rundall, Baby Milk Action/International Baby Food Action Network.
Prof. David. C.Morley , UK

To view the obituary that appeared in the Guardian on 14th November 2007, please click here .

To view the obituary that appeared in the Lancet on 24th November 2007, please click here .
The citation made in honour of Dr. Clavano when she received the Order of the Golden Heart from President Gloria Macapagal
-Arroyo on 14 August 2006.

The Order of the Golden Heart is conferred to Dr. Natividad R. Clavano for her pioneering work in breastfeeding advocacy, and infant and young child feeding
Dr. Natividad N. Relucio Clavano is hereby awarded the Order of the Golden Heart in the field of Pediatrics, where she pioneered in Young Child Feeding with her work in the "Under-Five Clinic National Program," and in Infant Feeding with her work on the "Baby-Friendly Hospital Initiative" (subsequently replicated in 192 countries) which made her famous all over the world, where she banned infant formula milk from the Maternity Ward of Baguio General Hospital and enforced a regime of "rooming-in" of the infant.

She graduated as a Doctor of Medicine from the University of Sto. Tomas, and took her post-graduate Studies in Pediatrics in the Institute of Child Health (1974-75), London University; consequently she was given a travel grant to travel to East and West Africa, India and Thailand to observe Child Health practices; secured a fellowship in Human Milk Banking in Paris and London, got a scholarship for Lactation Management in the United States.

Dr. Natividad Clavano became the first and foremost Breastfeeding Advocate in the world, having started her involvement in the movement in 1975. In May 1978, Dr. Clavano of Baguio General Hospital in the Philippines traveled to Washington DC to attend a hearing of a US Senate Subcommittee under the chairmanship of Senator Ted Kennedy, where she galvanized the entire world with 10,000-baby study in her hospital by the total elimination of baby milk formula bottles and teats, from the maternity wards, resulted in a very dramatic reduction of infant illness and mortality. Senator Ted Kennedy joined the crusade against the milk companies and publicly demanded that the World Health Organization (WHO) do something about it. In 1981, three years later, the WHO/UNICEF passed the International Code on the Marketing of Breastmilk Substitutes and Other Related Products. The passing of the International Milk Code in 1981 is traceable to the appearance of Dr. Clavano in the Kennedy Subcommittee. In 1986, five years later, the revolutionary government of President Corazon Aquino signed into law Executive Order 51, known as the National Milk Code.