WABA's Education and Training working group is focusing its attention on meeting the need of health care providers to globally understand the basics (both why and how) of lactation and breastfeeding. Our concern is that the curriculum offered to all students of health care science include content which will prepare them both before they begin to serve the public (Pre-service) as well as after they begin to provide health care (In-service) to be able to be supportive of breastfeeding and help mothers succeed.
Health Professionals role in the promotion, protection and support of breastfeeding
---
Courses
BREASTFEEDING: ADVOCACY AND PRACTICE COURSE
---
Previous BAP course
6th Regional Outreach Course
19th – 31st October 2015
Penang, Malaysia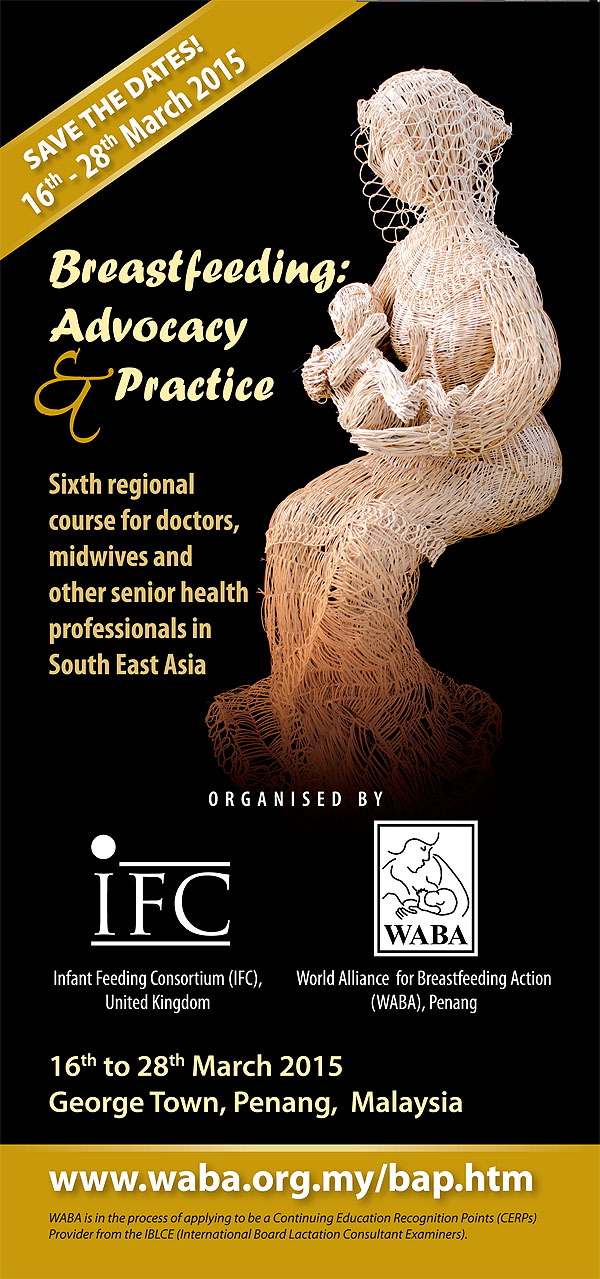 WABA and the Infant Feeding Consortium are once again co-organising a 2-week in-depth training course on breastfeeding and related aspects of young child feeding to be made available regionally. The course aims to equip participants with the skills and knowledge needed for such co-ordinated action on breastfeeding.
The course is specially designed for doctors and other senior health professionals from the region who are responsible nationally or locally for:
Clinical care of mothers and infants
Teaching short courses
Pre-service curricula for health professionals
Advocacy and policy development
Implementation of programmes such as the BFHI.
The Infant Feeding Consortium directs the 4-week course – Infant Feeding: Practice and Policy Course (IFPP) (Formally called the Breastfeeding: Practice and Policy) from United Kingdom, and they will be responsible for organising the course in collaboration with WABA. Teaching will be conducted mainly in English, with some use of Bahasa Malaysia.
If you or your colleagues might be interested in applying, please fill in our application form
Click here to download brochure.
View details on earlier previous BAP course
---
Revised 3rd Edition of the Wellstart's Lactation Management Self-Study Modules, Level 1.
This educational tool is now available in English and Spanish, it is downloadable without charge from http://www.wellstart.org/
This tool is intended for use by medical and nursing students as they begin their clinical assignments but can be also be used by anyone who has never been exposed to breastfeeding issues before or those who need a quick review. Wellstart International hopes that this tool will be able to help increase the general knowledge of about lactation and breastfeeding promotion among the world's health care providers irrespective of areas of specialisation.