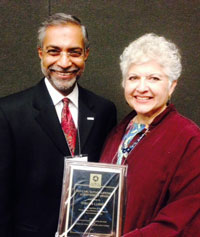 Congratulations to Dr Miriam Labbok on being the first recipient of the Carl E. Taylor Lifetime Achievement Award from the American Public Health Association's International Health Section on 5 November 2013. WABA is very proud to have you as the Co-Chair of our Steering Committee as well as a regional representative for North America from our Core Partner, the Academy of Breastfeeding Medicine (ABM). We look forward to your continued guidance to move forward WABA's agenda to protect, promote and support breastfeeding worldwide. Best wishes, Dato Anwar Fazal, Chairperson Emeritus, WABA.
See also:
http://www2.sph.unc.edu/schoolwide_news/labbok_presented_with_apha_lifetime_achievement_award_28000_8289.html
(Photo caption: Dr. Miriam Labbok, right, accepts the lifetime achievement award from Professor Gopal Sankaran, chair of the International Health Section awards committee. Source: UNC Gillings School of Global Public Health).